Commander Pradeep Jaswani
Chief Operating Officer, JPRI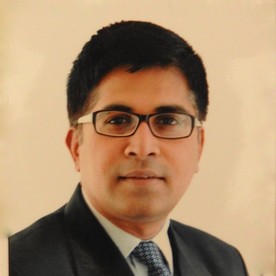 Commander Pradeep K Jaswani, comes with an experience of over 25 years with Indian Navy. An Electrical Engineer with Masters in Computer Science from IIT, Mumbai, he has steered vast range of operational and policy initiatives under various verticals and domains. Handling an array of cutting edge technology ranging from electrical, electronics, machinery controls, Cyber/Information technology and embedded systems, he carries the honour of having been awarded with multiple Service Medals and Decorations in recognition of work done. Working with large and diverse teams is his forte.
He also carries over 07 years of experience at "National Institute of Smart Governance" & "Telecom Sector Skill Council", wherein his contribution towards defining the "Skill India Ecosystem" and steering World Bank programs for technology and infrastructure upgrade have seen successful completion and garnered appreciation for their overall positive impact and effectiveness. Seamless interaction and working with top management at Govt and Academia has instrumental in this regard.
His continuous quest for being current in the field has seen him progressively acquiring formal qualifications in Business Administration, Cyber Security and Big Data Analytics.